Are you looking to refresh your office to reflect the newest trends? Well, look no further. The experts at Spark Design have outlined some of 2020's newest trends to incorporate throughout your space:
1) Vinyl Wallcovering: Bring life into your space with vinyl wallcovering! It can be used as an accent, complement your company's branding, or add a splash of color to your space. Wallcoverings can also assist with wayfinding, wall protection, and help separate rooms or areas in open floor plans.
2) Outside Spaces: As humans, we have a desire to be outside. We love to enjoy the fresh air and greenery that nature has to offer. By bringing the outdoors in, it can help boost your mood, create a positive attitude, and help to increase your productivity throughout your day.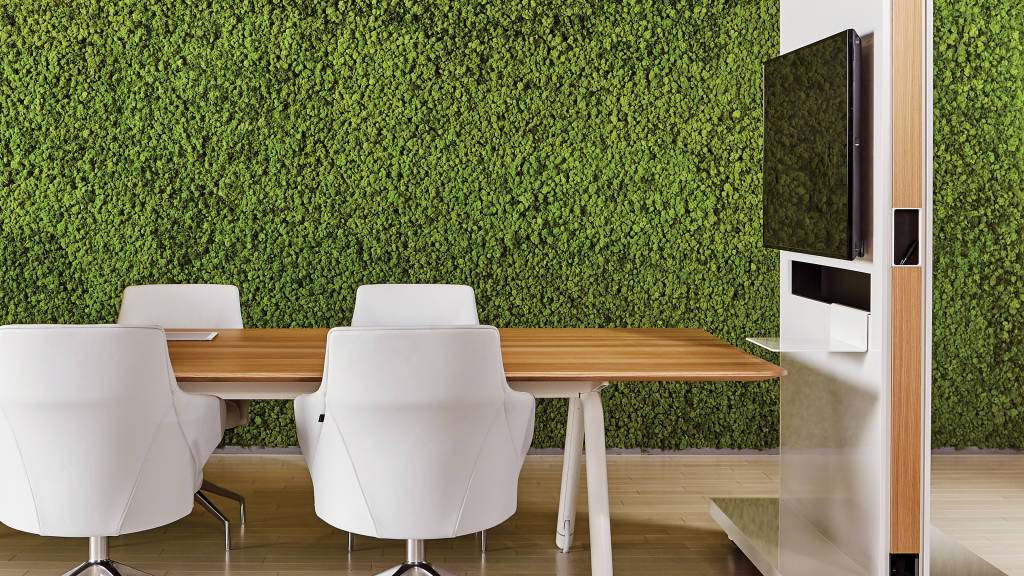 3) Residential Aesthetic: We end up spending a good portion of our time in the office, so why not bring the feeling of home to work. One way to bring a residential feeling into the office is by incorporating living room style furniture and comfortable seating. Studies have shown that we are more productive when we are comfortable and relaxed with our surroundings.
4) Collaborative Office Environment: It is important to incorporate spaces that will promote teamwork, but it is also essential to find a balance between open and closed areas. Entirely open offices may cause disruptions to others, potentially causing work performance to slip. On the other hand, if traditional conference rooms are the only meeting spaces in the office, it could create intimidating or uncomfortable situations where individuals are less likely to chime into conversations and share their ideas. Informal meeting spaces distributed appropriately throughout cubicle arrangements or small huddle rooms, can create new opportunities for team collaboration.
5) Wood: As mentioned above, we have an innate need to experience nature. Incorporating wood looks is another way to accomplish this need. The use of wood can be introduced through tabletops, furniture, flooring, and accent walls.
6) Modern Lighting: The time has come to let go of the harsh fluorescent lighting. As much as we would like every space to be exposed to lots of natural lighting, it is not always possible. LED lighting is becoming more and more popular and for good reason. The benefits of LED lighting include exceptionally longer lifespans, lower energy consumption, reduced maintenance costs, and higher safety. Additionally, LED lighting mimics natural light and is designed to regulate a healthy and regular circadian rhythm for humans.
There are many ways to introduce lighting as a design feature. Lighting does not always have to mean standard 2×4 fixtures in the ceiling tile. Using pendants or other types of feature lighting can help add layers to the space, while also highlighting different areas throughout the space.
7) Sustainability: With the growing concerns in climate change issues, there is an increase in demand for furniture and materials to be more sustainable. Companies are striving to achieve sustainable accreditations. Some of these credentials include: BREEAM, LEED, WELL, and Green Building Standard. While we all strive to have beautiful office spaces, it is time to start thinking about how we can make our spaces beautiful for the environment, as well.

Curious about our sources? Find out more and learn something new: